Psyched that I'll be leading a panel on women and gaming at the upcoming Et cetera festival next Saturday, Sept 22nd.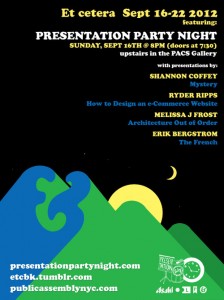 As organizer and Public Assembly creative director, Ben Sisto, puts it: Et cetera is "Pro-women, pro-queer, pro-art, pro-imagination, pro-problem solving, fans of the radical, and understanding of your budget – we're here to provide the best week-long version of a state-funded liberal arts college we can pack into an old mayonnaise factory. Live the dream."
Really impressed by all the amazing programming he's been able to assemble for the weeklong event, which has received extensive big-ups from Time Out New York, Brokelyn, Brooklyn Vegan and more.
The nitty-gritty is below, as well as on the Facebook event page.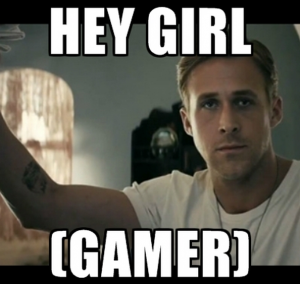 See you there friends:
++++++++++++++++++++++++++++
HEY GIRL (GAMER)
Et cetera 2012 at Public Assembly
Sat. September 22, 2012. 4-6pm. Free.
Spreading from TV screens to laptops, smart phones and facebook feeds; spilling into classrooms, diy music venues, and major museum exhibitions- we are currently witnessing the rise of the digital game. Yet as the number of contemporary women gamers grows nearly equal to that of male gamers, gender bias in games and in the industry and culture that surround them, seems slow to die. HEY GIRL (GAMER) presents a panel of distinguished developers, artists, researchers, and students from the field to share their work and offer insights as to what gives and what's at stake for ladies in this continually evolving media form.
Featuring:
Ida Benedetto, co-founder of Antidote Games and member the indie arcade collective, Babycastles.
Jessy Jo Gomez, Design and Technology student at Parsons The New School of Design and former youth game designer with Global Kids.
Kaho Abe, Former Eyebeam fellow and current artist in residence at NYU Poly's Game Innovation Lab.
Julia Deter, Award winning game artist and developer at Arkadium games.