"Twist" that bone jutting out of the wrist…"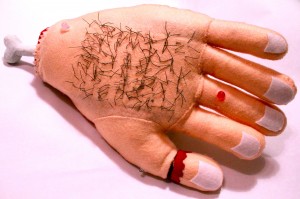 "Pull" the partially detached thumb…"
The "Severed Hand Bop-It," an arduino powered plush toy created by myself and programmer Jason Schapiro, will be featured at this year's Maker Faire at the New York Hall of Science. I'm hoping to debut a more polished redesign of the interface and am excited for the chance to playtest it with such a huge all-ages audience. Having gone past years, I love the Maker Faire atmosphere, it really epitomizes the perfect storm of science, DIY culture and art and makes a case for the importance of citizen science and all the kludgy, brilliant backyard ingenuity that goes along with it.
This year's Faire features more than 500 maker exhibits and boasts "The World's most diverse showcase of creativity and innovation in technology, craft, science, fashion, art, food and more!"
Come find Jason and I if you plan on attending!